BIA's Flat Belt Road Simulator has been designed to perform advanced tests on heavy-duty vehicles' axle and chassis during R&D stage.
BIA's road simulator is a 6 DoF platform combined with a flat belt.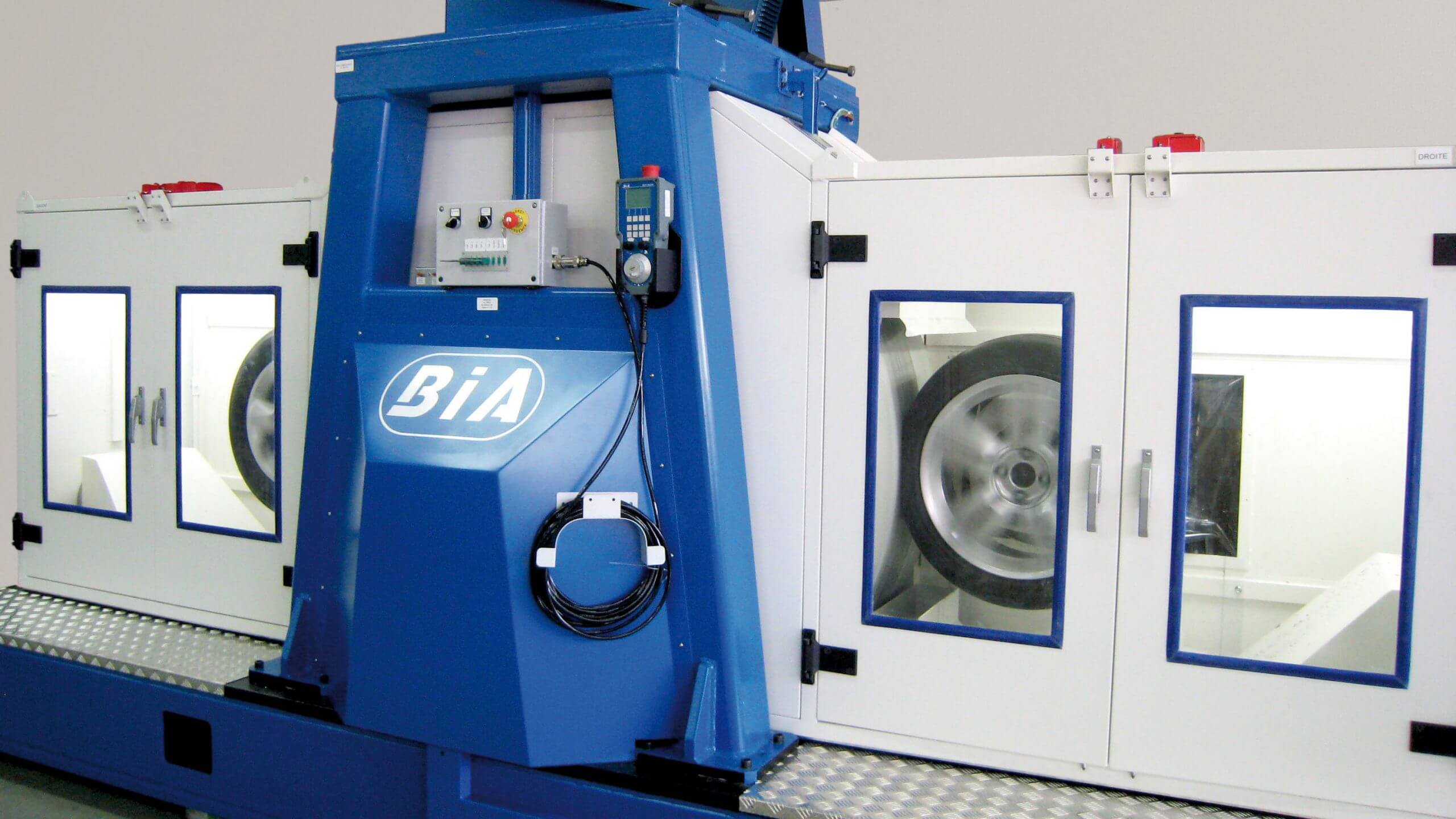 Wheel & Tire Endurance Testing
BIA has developed a fully electrical solution using 1.7 or 2.0 m diameter drums.
This compact dual station equipment allows users to apply vertical and lateral loads onto the tire. The bending moment produced is used for realistic wheel fatigue tests.
Tire Rolling Resistance Measurement
Rolling resistance is now a key parameter for vehicle fuel consumption. BIA offers a fully electric solution to allow advanced studies on the effects of rolling resistance, including up to four different methodologies [Force/Torque/Power/Coast Down] and adjustment of camber and toe angles.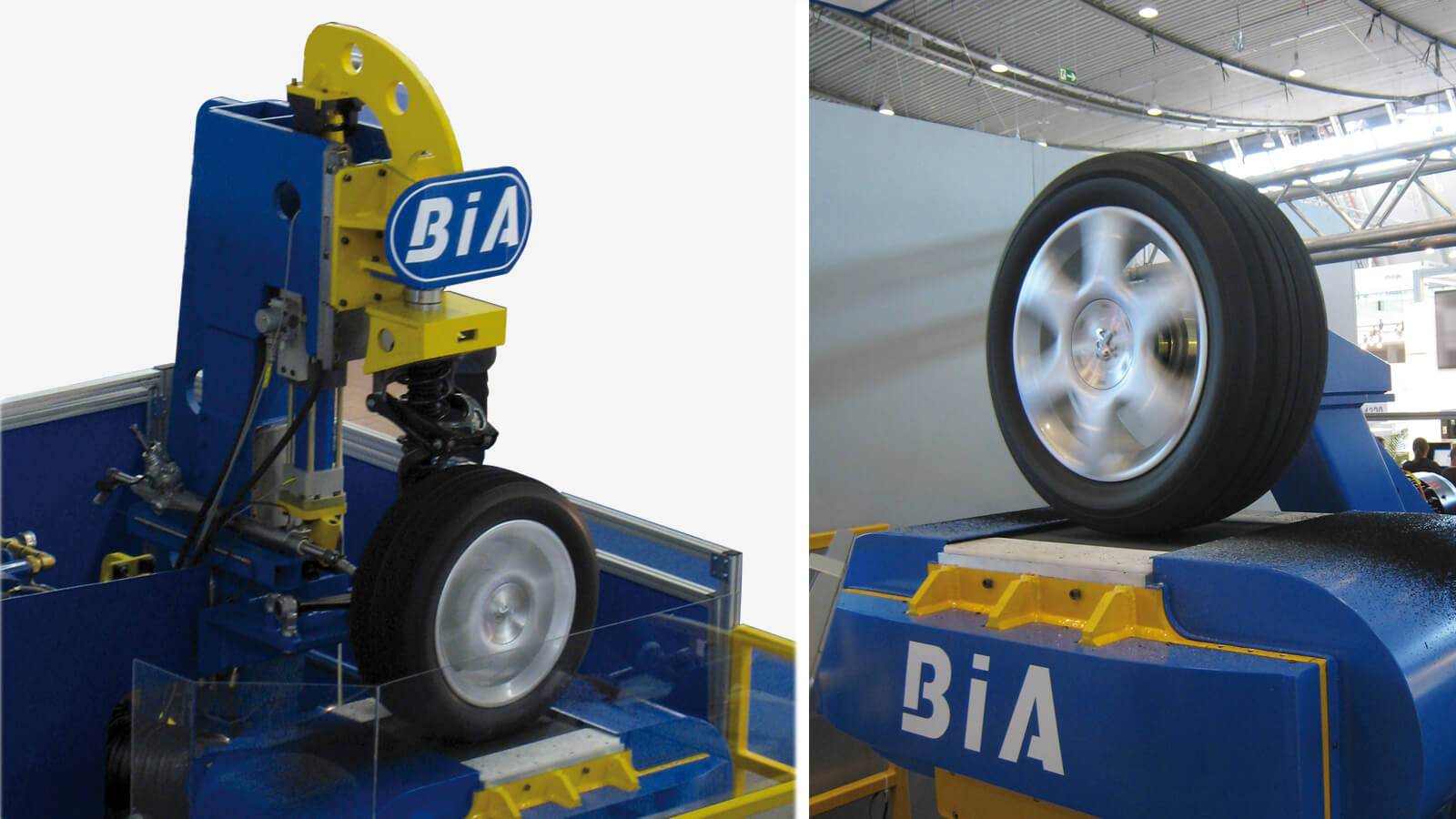 6 Degree of Freedom
Chassis Dynamometer
Protected by a worldwide patent, BIA 6-DoF Chassis Dynamometer combines the real rolling conditions with an interchangeable flat road surface.
The mechanism is a one-wheel dynamometer on flat road surface with a 6-DoF actuator.
Multi-Axis Tire-Coupled Simulator
The Multi-Axis Tire-Couple Road Simulator can be fitted to meet customer need, from single poster application to 6DoF test system, coupled with HIL solutions for active component development.
The HexaWheel is a spindle/wheel-coupled road load simulator. BIA's newly-developed test system can be used for quarter-car, axle and full vehicle tests.
With its patented morphology and its optimized design, the HexaWheel offers an unmatched rigidity, allowing closed-loop testing up to 70 Hz and iteration-based testing up to 100 Hz.
The test can be used to carry out rotational bending fatigue tests on wheel components including brake discs, pivots, hub, bearings.
Fy and Fz forces are applied independently .
Multi-Poster Road Simulation
BIA has introduced state-of-the-art multi-poster test systems, fully integrated equipment for dynamic road simulation on complete vehicle.
Each single component (actuators, hydraulics, bedplates…) is in-house designed in order to achieve the best optimization of performance.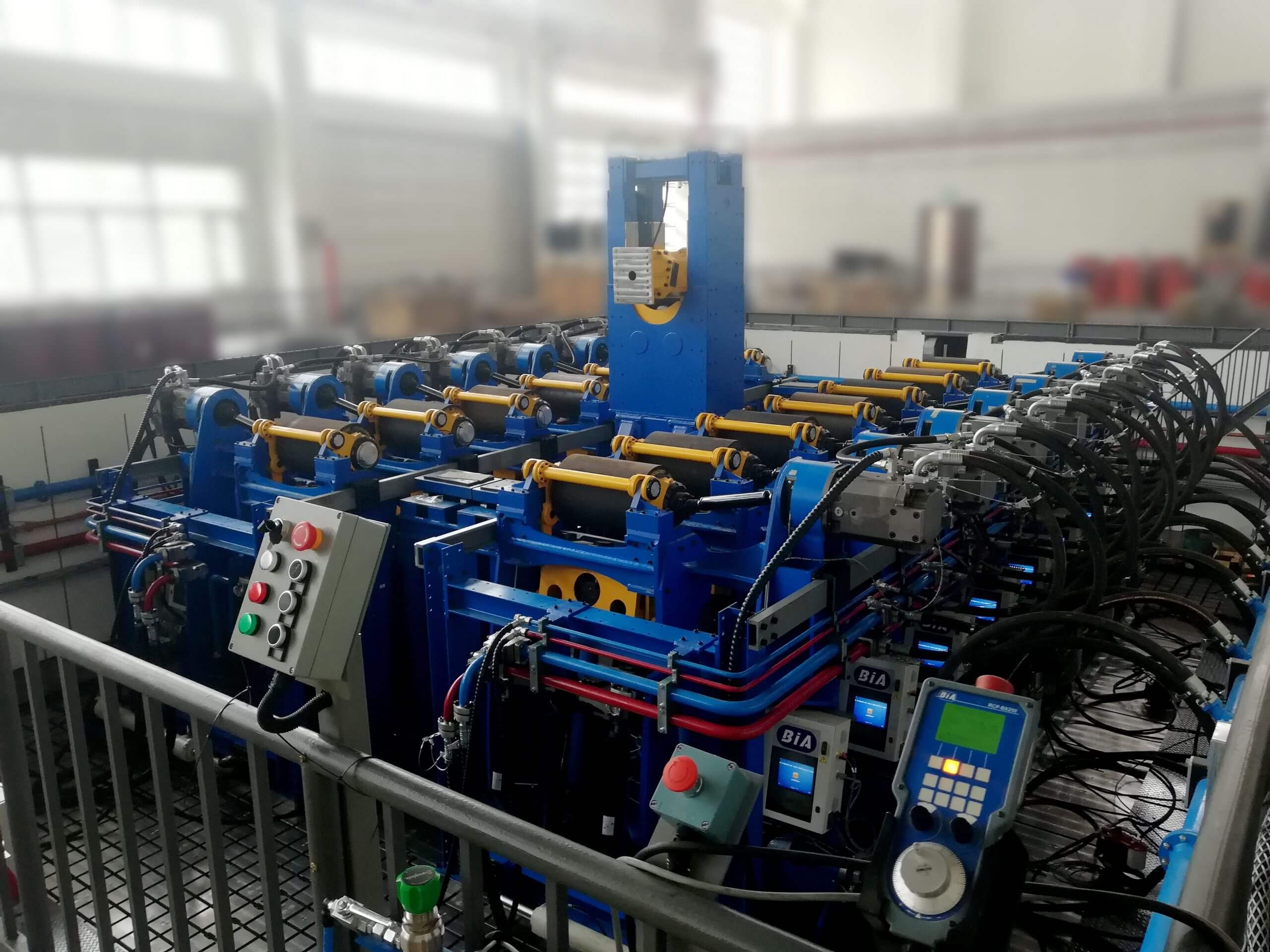 Four-Poster Drive-In Test Chamber
The highly customizable multi-axial four-poster test bench can combine a drive-in chamber to simulate environmental conditions  and reproduce real road driving conditions. This equipment can be used for fatigue and NVH testing.
Four-poster road simulators are the workhorse for ground vehicle development, from lawn tractors to large off-road construction equipment. They are used for many different test applications such as structural durability, squeak and rattle assessment, end-of-line quality control, ride comfort evaluation.
BIA's four-poster can be customized to meet specific military demands or specimen requiring weight compensation. A larger capacity system is available with higher speed and force.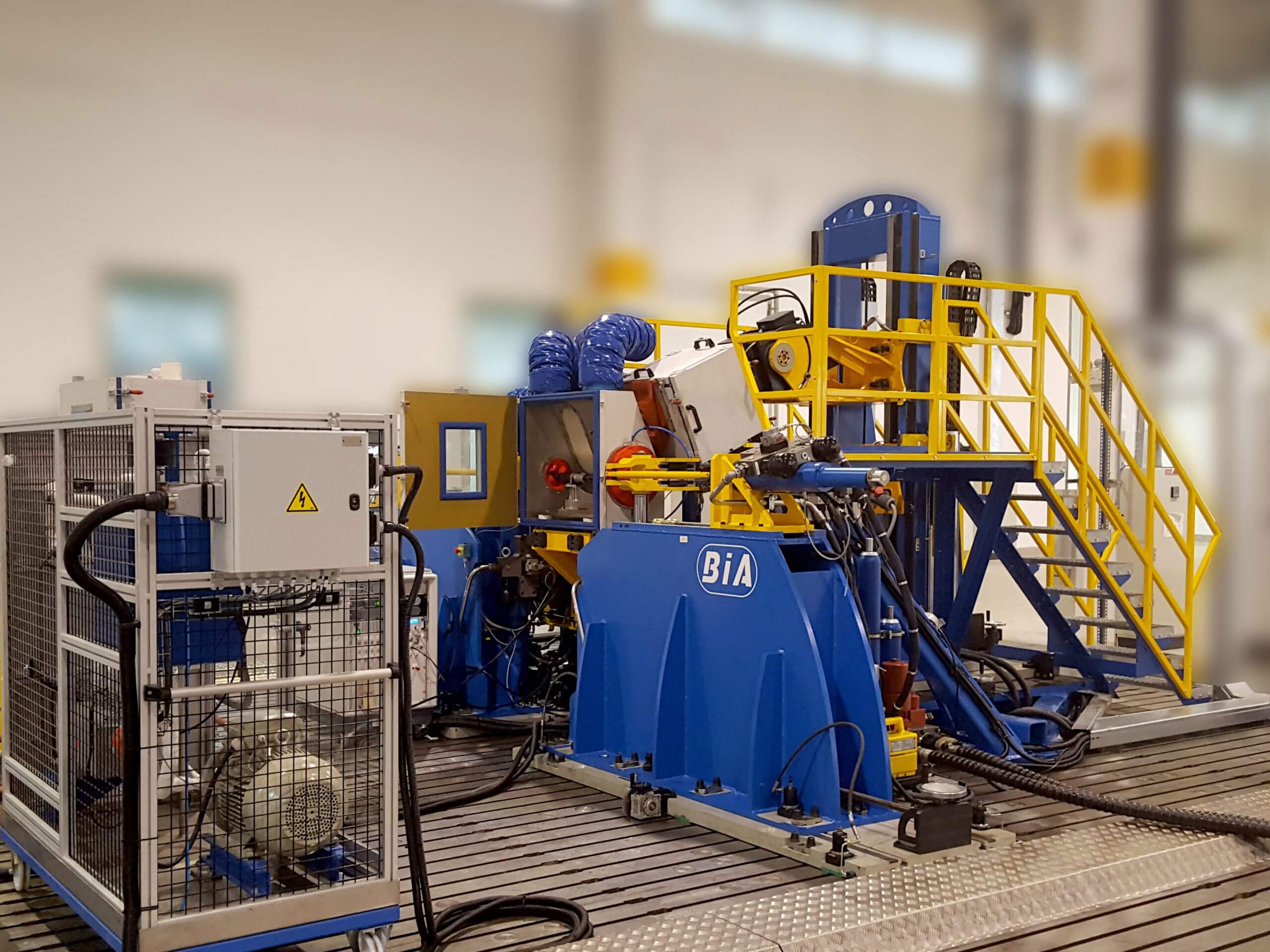 Universal Steering Test System
Whether the interest is in fatigue or development tests for steering sub-systems, BIA provides the most adapted installation to designers or steering components manufacturers.
Environmental simulation includes individual climatic chambers for every section of the steering train as well as harsh environment modules with humidity and mud sputtering.
BIA's solution can execute classical speed/force or displacement/force diagrams, check noise or leaks.
For higher frequencies and random profiles, hydraulic solutions are also available for passenger car as well as for heavy-duty vehicles.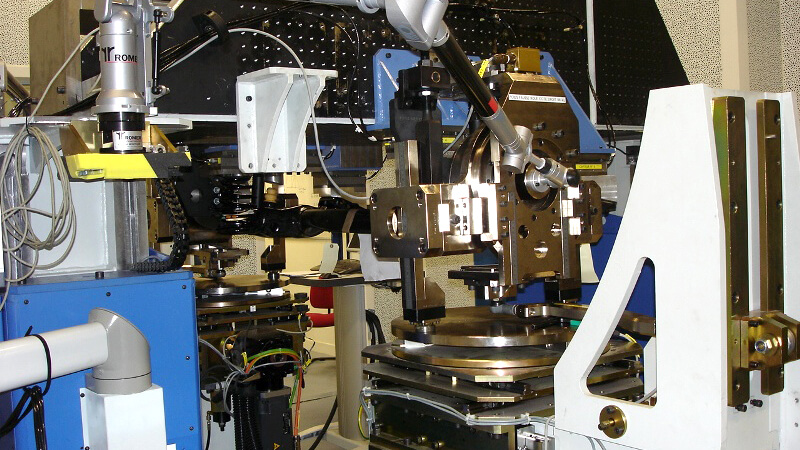 In order to maximize handling and ride performances of vehicles, BIA developed a noiseless fully electric Kinematics & Compliances test bench to measure quasi-static suspension characteristics. The test system can be provided for either axle or or full vehicle testing.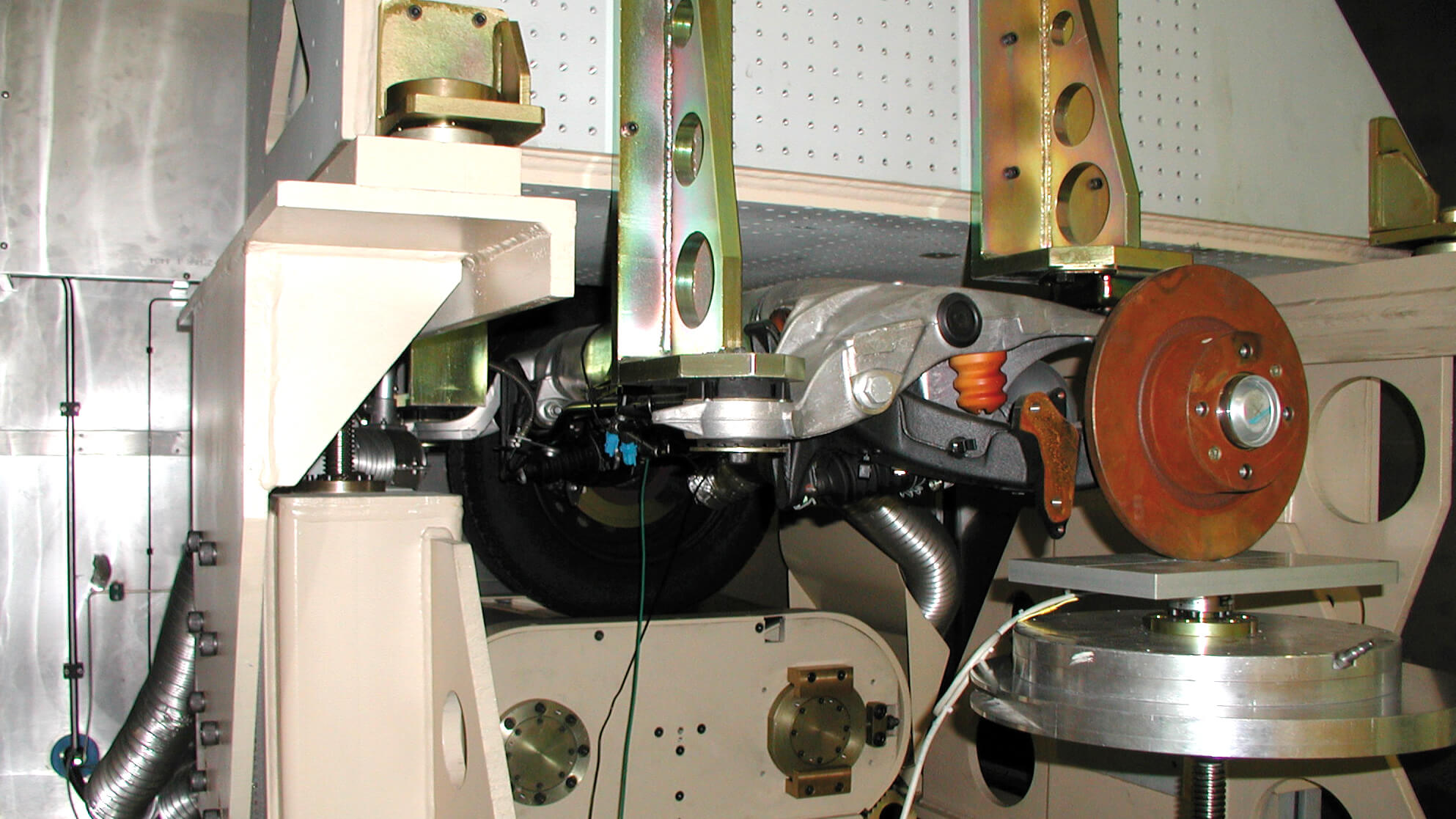 Based on the combination of flywheels and a programmable inertia simulation, using an electric motor, BIA offers several types of brakes test systems in order to assess fatigue and durability of brakes or to develop new products based on Noise, Vibration and Harshness (NVH) analysis.